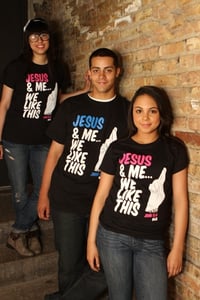 $

15.99 - On Sale
JESUS & ME...WE LIKE THIS T-SHIRT (UNISEX)
Available in PINK and BLUE.
Based on John 15:4 - "Remain in me, as I also remain in you. No branch can bear fruit by itself; it must remain in the vine. Neither can you bear fruit unless you remain in me."
100% preshrunk cotton t-shirt. READ SIZE CHART BEFORE ORDERING!
Model is 5'8" and he is wearing a size large. CLICK ON IMAGES FOR LARGER VIEW.
Proper care instructions: To ensure color quality and to minimize fading, please wash t-shirt inside-out. Machine wash in cold water and hang dry.